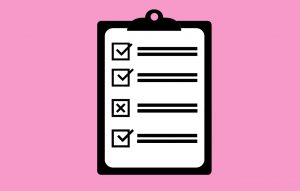 Everything you need to know about assessments 
Completing your assessment (also called assignment)
Your module leader will set out the module assessment requirements in an Assessment Brief which can be found in the Module Guide on the module site.
The Assessment Brief contains all the information you need about the assessment task. There may be some supplementary information on a separate sheet too in which case your module leader will show you where to find it. Module leaders will also provide a set of narrated (audio) slides about the assessment task so that you can listen to the details at your own pace.
There will be formative and summative (graded) assessment tasks. Formative assessments are very important even though they are not graded. You will get feedback on them which will help you develop your work and often the task will be similar to or part of the summative assessment task. Summative assessments are graded and will count towards your overall module mark.
Before starting work on your assessment, make sure you understand exactly what you have been asked to do. Read the Assessment Brief, listen to the narrated slides, attend your scheduled classes and any additional seminars that are put on to help you. If in doubt ask your tutor/module leader for clarification.
Submitting your assessment 
Most of your coursework will be submitted online through your module site. All you need to do is go to the Assignment portal and upload your document. Your module leader will tell you if there are any special requirements for your submission such as saving the file name in a particular way. You will also be told what kind of document to submit your work in, what the maximum word count is and when the deadline for submission is.
It is very important that you submit before the deadline passes – this video explains why: https://www.powtoon.com/online-presentation/ba0Dp7SmG24/?mode=movie#/
Whether your work is submitted online or handed in, you still need to do it before the deadline passes. If it is an exam, observed structured clinical examination (OSCE), in-class test or presentation, then you must arrive on time to be able to participate. It is a good idea to check the room before-hand so that you know where it is and leave yourself plenty of time to get there before the assessment actually starts.
After your assessment has been submitted
Firstly, your allocated marker (a tutor) reads through your work and decides how well or not you have met the assignment outcomes. The marker refers to the module guide and the assessment brief so that she/he knows exactly what you have been asked to produce. Markers meet in groups before marking, and sometimes during, to ensure that everyone is clear about what the students have been asked to do.
All coursework assessments are marked with the help of a Grading Criteria and Feedback Sheet. This is used to ensure that all tutors approach marking and feedback in the same way.
The marking process takes time to complete fully. A standard essay takes approximately 45-60 minutes to mark and then the marking has to be quality checked by an internal moderator before the final results can be released. Level 5, 6 and 7 work is also checked by an external examiner. This short video explains the various stages of the marking and moderation process:
https://www.powtoon.com/online-presentation/c7fZLgxQ0GR/marking-behind-the-scenes/?mode=movie#/
Other forms of assessment are marked in different ways. For example, written exams and in-class tests are marked according to a pre-prepared answer sheet, online exams are marked by computer and observed structured clinical examinations (OSCEs) are marked by an examiner during the assessment.
When all the assessments in a module have been marked you will be given an overall module mark. You will need a mark of 40 or more to pass a level 4, 5 or 6 module and a mark of 50 or more to pass a level 7 module.
Getting Feedback on your Assessment
Coursework, group-work and presentation feedback is given with the help of the Grading Criteria and Feedback Sheet. You may also have comments on the assessment document itself (called annotations).  The tutor in this video is talking through how the Grading Criteria and Feedback Sheet is used to give feedback: 
http://www.studynet2.herts.ac.uk/crb/11/website97.nsf/Teaching+Documents/CB3E4CBA0BA7664C80257DCB0041E296?OpenDocument
Students in some programmes also have a self-assessment (called SART) to complete before receiving their feedback.
Read your feedback carefully; it will show you what you have done well and what you need to improve.  It is a good idea to make notes of the key feedback points, your strengths and any areas for development. Book an appointment with your tutor if you do not understand your feedback or want to discuss how you can improve your marks in the future.
You can also ask your tutor/module leader for feedback on other types of assessments such as exams and OSCEs; this will usually be in the form of 1-1 or a group tutorial and may be more generic in nature than coursework feedback.
Problem meeting the deadline?
tbc
What is academic integrity?
Academic integrity is all about being honest in your academic work. This means that you must produce work that is your own so that when you get credit for it, the credit really belongs to you. This does not mean that you cannot use other people's work to help you as long as you acknowledge them. A good piece of academic writing will make use of a range of work to show that you have read and understood the subject you are talking about – just make sure you correctly cite the source of information. Correct reference citation enables your lecturer to see who else's ideas you have made use of and to check the source themselves to see if you have correctly understood it.
What is academic misconduct?
Academic misconduct refers to improper behaviour in the assessment process. This covers a range of behaviours such as copying (plagiarism), buying an essay, borrowing an assignment from a friend, falsifying documents, cheating, theft of assignments and collusion. Academic misconduct can apply to any type of assessment including written work, practice assessment documentation, presentations and exams.
This video (7.28 mins) explains academic integrity and misconduct in more detail, including different types of assessment-related offences and how to keep your work (and reputation) safe from allegations of misconduct.
For further information about academic misconduct and assessment offences please see the University Policies and Regulations.
What is plagiarism?
The misappropriation or use of others' ideas, intellectual property or work (written or otherwise), without acknowledgement or permission is called plagiarism. It may be intentional or unintentional and includes, but is not limited to:
the importing of phrases from or all or part of another person's work without using quotation marks and identifying the source;
without acknowledgement of the source, making extensive use of another person's work, either by summarising or paraphrasing the work merely by changing a few words or by altering the order in which the material is presented;
the use of the ideas of another person without acknowledgement of the source or the presentation of work which substantially comprises the ideas of another person and which represents these as being the ideas of the candidate.
This interactive on-line resource will help you understand and avoid plagiarism.
What is Turnitin® and how can it prevent plagiarism?
Turnitin® is a 'text matching tool'. When you submit a document to Turnitin® it will give you an electronic report back (called an originality report) which shows you whether any of your text matches work that has already been submitted or published by somebody else.  See here for Further information on Turnitin® and how it can help you improve your academic writing.
Have pride in your work
It is you who will link the different ideas in your work together and it is you who will decide which points to argue and how. It is you who will choose what evidence to use to support your comments and it is you who will be expected to justify the opinions you are sharing. Producing work in this way shows originality and ownership – your thinking, your work.
Please do not put your future as a health care or social work professional at risk by cheating in your assessments.
Keywords: cheat; cheating; copying; copy and pasting.